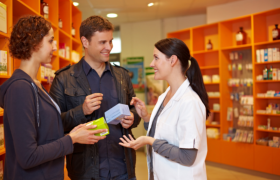 Arbor Lane Pharmacy is a leading provider of daily pharmaceutical care for our customers: we deliver to skilled nursing homes, assisted living facilities, personal residences & group homes.
Arbor Lane Pharmacy has only one goal…Offer the best and most cost-effective pharmaceuticals to all customers. Our services are not limited to simply filling prescriptions: we utilize state of the art computers and dispensing systems to assure the most appropriate drug therapies, based on the best medical practices in pharmacology.
Arbor Lane Pharmacy maintains meticulous records to avoid over-prescribing and to identify undiagnosed diseases situations.
Arbor Lane Pharmacy is committed to making certain that all patient populations and care givers receive complete instructions and training on an as needed or preplanned basis.
Arbor Lane Pharmacy offers classes and seminars to nurses and patients to maintain optimal care and the opportunity to save the cost of their medications.
Arbor Lane Pharmacy will gladly work with individual physicians to establish and formulate unique protocols for individual clients.